Public consultation on final centrepiece at Wapping Wharf, Bristol's harbourside neighbourhood
Public consultation on final centrepiece at Wapping Wharf, Bristol's harbourside neighbourhood
Permanent home for CARGO businesses, hundreds of new homes and generous green public spaces proposed as consultation begins
June 21, 2022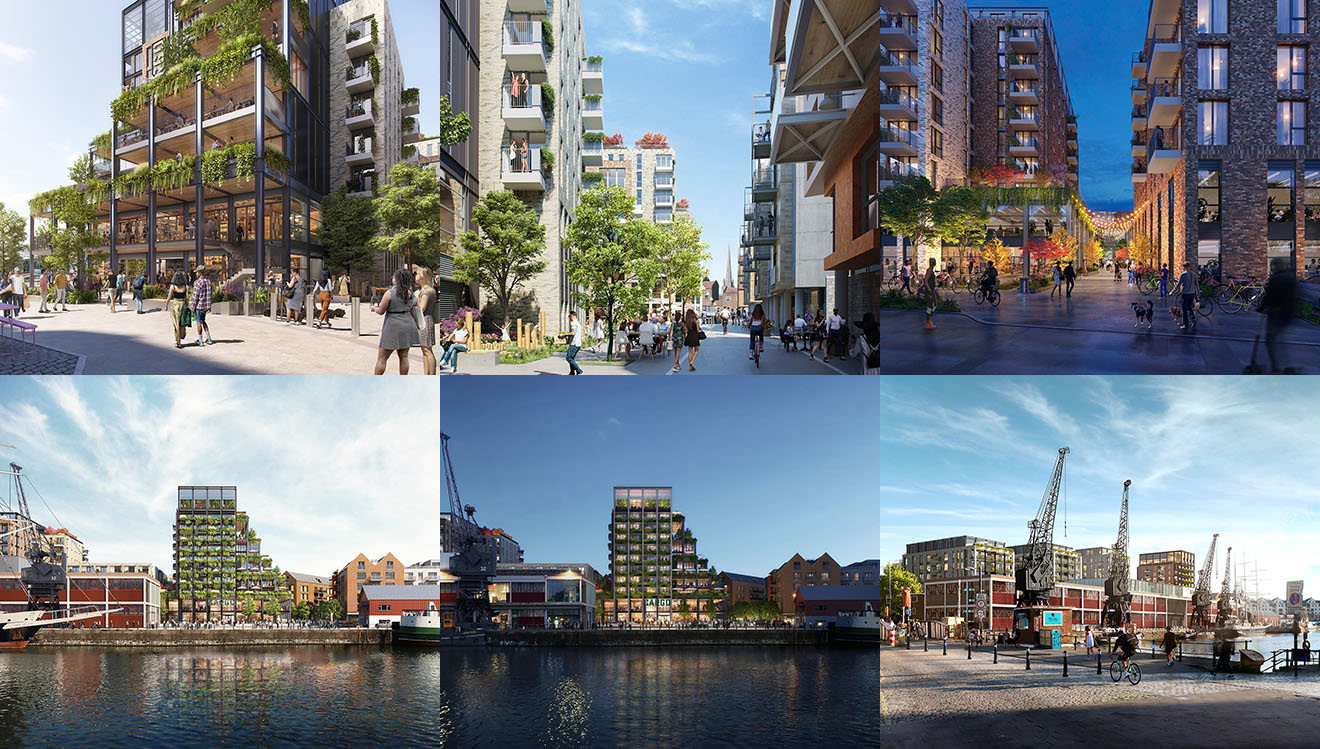 Top Row, L-R: View across the bottom of Gaol Ferry Steps with the new CARGO building located where CARGO 1 currently sits; Looking down Rope Walk from Gaol Ferry Steps with St Mary Redcliffe Church spire framed in the distance; View looking down the new public street towards the entrance to the M Shed on Museum Street
Second Row, L-R: View towards the new landmark CARGO building looking across the harbour and Museum Square; Night time view of the new buildings showing the brightly lit new retail and restaurants; View from Prince Street Bridge looking towards M Shed.
The planned new development for the site at Wapping Wharf North, which sits behind M Shed, is designed to build on the existing success and special character of the neighbourhood. The designs aim to create a bold, innovative centrepiece for Wapping Wharf, with new homes, shops, restaurants, takeaways and workspaces to complete this much-loved community on Bristol's harbourside.
The proposals, by developers and owners Umberslade, will also secure the future for the businesses housed in the temporary converted shipping containers at CARGO, providing a new and better permanent home where these independent businesses can flourish.
They are also designed to further enhance visitors' experience of the harbourside destination, with innovative high quality new buildings and new public spaces that will contribute to the growth and reputation of the city docks area as a thriving leisure hub.
The proposed development at Wapping Wharf North would deliver:
A new Harbourside landmark: a striking building with cascading plant-filled terraces, fronting onto Museum Square and facing Bristol's Harbourside will create a landmark for this prominent location and leisure destination on the city's docks. Situated on a key bend in the Floating Harbour which offers views across the water and Bristol, the building will act as a navigation point for visitors to the harbourside area and will house new apartments, together with independent shops and restaurants.
A permanent, better new home for CARGO: All existing CARGO independent businesses will be invited to set up home in the new landmark building. On the ground floor, small independent businesses will sell groceries and produce in a new double-height continental-style permanent covered market called CARGO Market Hall. Surrounding this, around the edges of the building will be takeaway restaurants and casual dining businesses with outdoor seating. The floors above will be home to dine-in restaurants, with cascading green outdoor terraces offering views across the harbour. Topping the building on the 10th floor will be a rooftop restaurant, the first on Bristol Harbourside, with unparalleled panoramic views across the docks and city. During construction, CARGO businesses will be relocated to the car park so they can continue trading while their new home is being built.
High quality sustainable homes: Around 240 new sustainable, high quality homes will be created of different sizes and tenures, including 20% affordable, for social rent, affordable rent or shared ownership, with the remainder for open market sale. A wide range of apartment sizes, individual balconies and several shared landscaped rooftop gardens will help attract people who want to live there for the long term, building on the strong sense of community that exists at Wapping Wharf. Rising above a two-storey podium, the apartments will be housed in five buildings which step down in height towards Wapping Road.
Flexible workspaces: A range of highly-flexible workspaces will be created on the ground and first floors of the new buildings, which can be adapted over time in line with the needs of the neighbourhood and market demand. At the Wapping Road end of the development, and totalling 5,000 sq m, the units will house a range of businesses to serve the growing community at Wapping Wharf, such as a yoga studio with outdoor space, an indoor/outdoor gym and a nursery. CARGO and the businesses along Gaol Ferry Steps already employ around 450 people and CARGO Work, which is currently under construction, will create around 1900 sq m of new office space to cater for up to 230 people.
High quality streets and public spaces: A significant portion of the site – over 30% -
will be dedicated to striking, landscaped public streets and spaces for everyone to enjoy. Generous, landscaped and accessible public spaces, including 'playable' landscapes for children, will provide a welcoming place for people to relax and will also create wildlife habitats.  Trees, seating areas and gardens will line Rope Walk, with the public areas between the new buildings featuring planter boxes and places for people to sit and relax. A new pedestrian route – a continuation of Fry's Walk - will link Rope Walk and Museum Street.
Housed in two separate buildings, the development at Wapping Wharf North will be built out in two phases and is designed by Bristol-based AHR architects. It is arranged around a two-storey podium, inspired by the transit sheds and shipping containers around the harbourside which will house independent businesses including shops, restaurants and takeaways, as well as flexible workspaces. The new landmark building by Museum Square will extend to twelve storeys (which includes the podium and double-height rooftop restaurant) and contains homes at upper levels, with restaurants ranged down one side with cascading green external terraces, including a viewing terrace where everyone can enjoy unique new views across the harbour. A further four 'wings' of apartment buildings will rise up from the podium, ranging between ten and five storeys (in total), stepping down in height towards Wapping Road and preserving important views of St Mary Redcliffe and St Pauls Churches.
The proposals are designed to ensure that Wapping Wharf North is sustainable, boosts local biodiversity and positively impacts on the wellbeing of the people who spend time in the neighbourhood. Highly efficient buildings will be heated and cooled using air source heat pumps that can be powered from solar or renewable electricity supplies. Robust long-lasting materials will help achieve high environmental ratings. Biodiversity will be promoted with well-maintained planting on buildings, private balconies and generous rooftop gardens and public spaces. The apartments will also promote the health and wellbeing of residents by following the principles set out in the WELL Building Standard.
Over the last six months Umberslade and their design and planning team have engaged with retail tenants, council officers, a number of statutory consultees and other stakeholders and their feedback has helped to refine and improve the proposals. Now the local community and wider public are being asked to have their say on the plans. All feedback will be reviewed by the design and development team to help shape the proposals before planning submission later in 2022.
Stuart Hatton, managing director of Umberslade, owners and developers of Wapping Wharf, said:
"We want Wapping Wharf to build on the success of what we've created here but make it even better. We believe that our ambitious proposals will enable Wapping Wharf to evolve into an established fully-functioning district of the city, where people who live and work here can find what they need on their doorstep.
"There's a very special character to Wapping Wharf which you won't find anywhere else in Bristol and this is in large part down to the cluster of independent businesses that have helped create the strong sense of community here. When we set up CARGO, it was really a temporary innovation – an experiment if you like - and a way of bringing some life to the place as we knew it would take a long time to develop out the whole site. Whilst quirky and distinctive, in reality the shipping containers can be challenging for a business to operate in. But CARGO has become such a success that we need to provide a permanent and better home for our businesses that they tailor as they want, and enable us to provide a greater range of shops and facilities for our community.
"Over the years, the Harbourside area has changed beyond recognition. Ourintention is to contribute to the successful evolution of the area as a leisure destination with a development that brings something new and exciting to Bristol, whilst also creating much-needed homes for people and independent businesses, as well as green, biodiverse spaces for everyone to enjoy.
"It's been wonderful to see the way people in Bristol have taken to Wapping Wharf and we hope they will support us on the next leg of our journey. Whilst the proposals we're revealing today have evolved considerably following input from Bristol City Council, statutory consultees and stakeholders, we know there may be ideas out there which we need to take on board so are looking forward to the response from the local community and general public."
Matt Hampshire, head chef at Tare Restaurant in CARGO said: 
"The plans look incredible. Stuart and Esme have done great things here, they have created a real community and this is a continuation of that, so we are super excited. It's such a fantastic vision of the future for both Wapping Wharf and Bristol, it's an honour to be a part of it."
Helen Symonds, owner of Frankly boutique at CARGO said:
"I'm really impressed that Stuart and Esme have managed to keep the independent spirit of CARGO and that we will all have a chance to personalise the space which is really important to Bristol and to keeping the special feel of the place. It's also great to know that we are all going to have a permanent home. I think the plans are amazing and they will put Bristol even more 'on the map'."
Public consultation on the proposals for Wapping Wharf North takes place from 21st June – 8th July. Drop-in style consultation sessions will be held at CARGO Work (on the corner of Cumberland Road and Wapping Road) on Tuesday 21 June and Wednesday 22 June from 4-7pm and will provide an opportunity to view and discuss the latest plans. After this, an exhibition of the proposals will also be on display on the Wapping Wharf site hoarding, at the Wapping Road end of Museum Street. The consultation material will also be available to view at www.wappingwharfnorth.co.uk where there will be an opportunity to give feedback via an online survey.